Pavilion Reservations


To reserve the pavilion for special events
Check availability on the calendar below

Complete and submit South Russell Village Pavilion and Park Use Form 

with a required non-refundable check for $25.00 
If any of the criteria noted on the Pavilion and Park Use Form apply, please also download, complete, and submit the Agreement for Use of Village Park Form.
Forms and payment may be mailed or provided in person to the Village of South Russell Building Department.  Please call the Building Department with any questions regarding reservations.
Monday through Thursday –  8:00 AM to 3:00 PM
building@southrussell.com
440-338-1312

Pavilion Reservation Calendar
Pet Rules
All animals at the park are required to be on a leash in all areas of the park at all times.

The leash must be no longer than 8 feet in length and the animal must be controlled.

Animal owners are responsible for cleaning up their animal's waste.

Violators of these requirements can receive a fine of up to $500.  
1,000 Daffodils Expected in Spring!
On October 26, 2022, the Cats Den Garden Club, Chagrin Falls, planted 1,000 daffodil bulbs in the South Russell Village Park just west of the pavilion along Bell Road.  Each year the organization selects a different community for the planting.  This bountiful blooming will undoubtedly be a welcome sight in spring!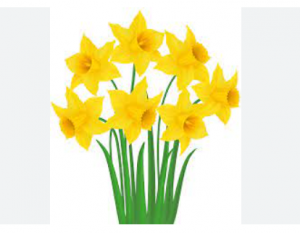 South Russell Village Park
Master Plan