Welcome to the Village of South Russell
South Russell is home to approximately 4,000 residents and is located at the western edge of Geauga County, Ohio.  The 4 mile long by 1 mile wide village is a residential community with unique character and rural "at home" charm.  South Russell students attend the highly acclaimed Chagrin Falls School System

.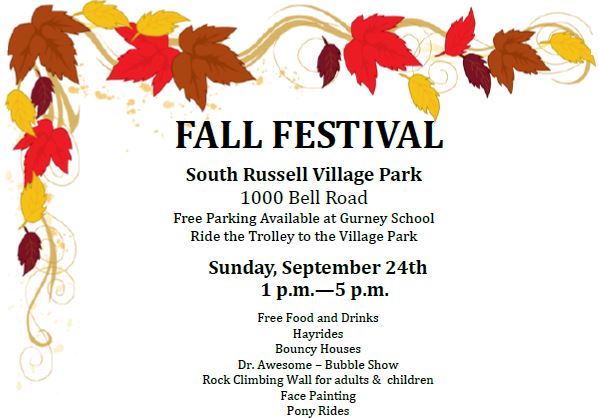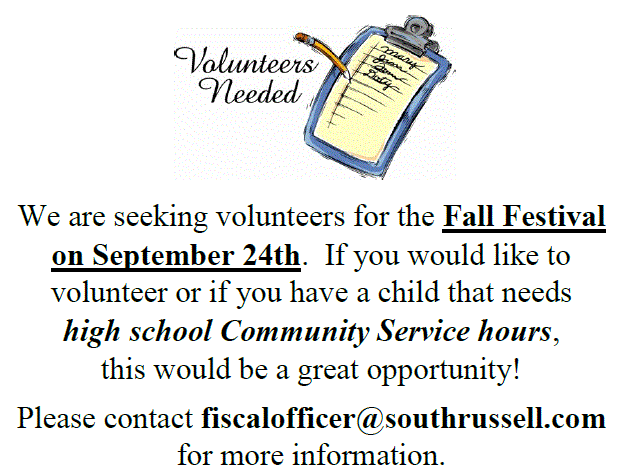 First Responders Week
             September 10-16
              Light it up!  Show your support by displaying a
red or blue light bulb on your porch.     

South Russell Police Department Open House
Saturday, September 9, 2017
10 a.m. – 2 p.m.
The South Russell Police Department will be holding its Annual Open House on Saturday, September 9th from
10am – 2pm.  Meet the officers, take a tour of our facility, and see a variety of specialized vehicles and equipment.
Members of the Valley Enforcement Group's (VEG) specialty teams will be onsite to give visitors a firsthand look at a high-tech Communications Vehicle (ERV), an Armored SWAT Van, and an Accident Investigation Unit (AIU). There will also be drone demonstrations by the newly established Unmanned Aircraft Systems (UAS) unit.  Meet members of the Ohio Search Dog Association and the Chagrin Falls Fire Department which provides our EMS and fire service.
Election Day
Tuesday, November 7, 2017  
Council voted to place a 1.5 mill, five-year road levy on the November ballot.  Passage of the levy will increase taxes by $52.50 per $100,000 of property value for five years.  Funds will go towards paving the five longest roads needing attention: Ashleigh Dr., Bel Meadow Lane, Kensington Circle, Lake Louise and Sheerbrook Drive.  In addition, the Village anticipates the need to pave Bell Road east of Chillicothe Road sometime before 2024 at an estimated cost of $862,000.

Schedule a Vacation / House Watch
The South Russell Police Department offers vacation watches for residents.  Click here to submit your request.
Mission Statement
The mission of South Russell Village is to serve the residents of the Village by:
– Providing a high level of essential services
– Planning for future needs while preserving the character of the Village
– Promoting an attitude of professionalism and impartiality among Village officials and employees in a fiscally responsible manner