Welcome to the Village of South Russell
South Russell is home to approximately 4,000 residents and is located at the western edge of Geauga County, Ohio.  The 4 mile long by 1 mile wide village is a residential community with unique character and rural "at home" charm.  South Russell students attend the highly acclaimed Chagrin Falls School System

.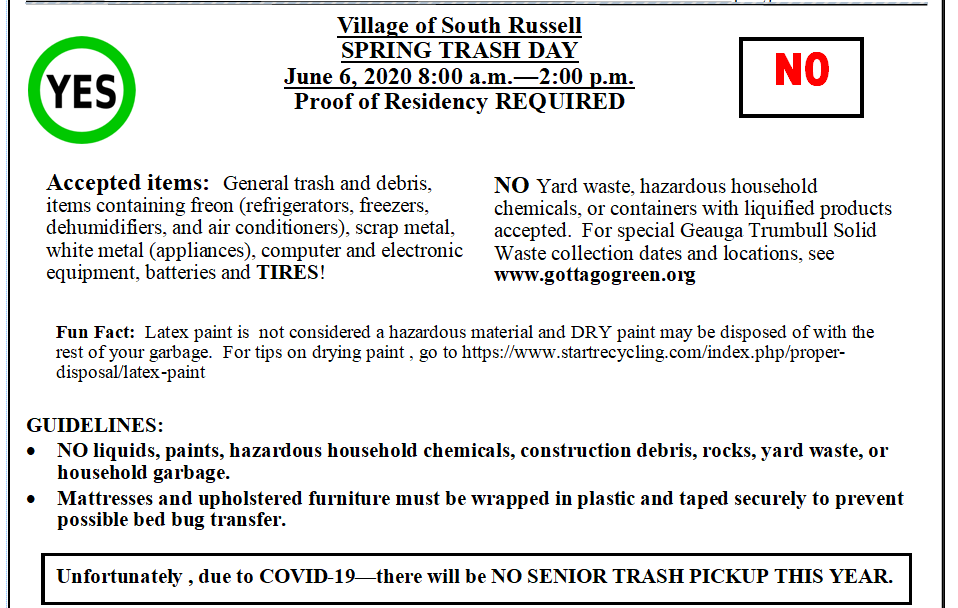 For the Latest Information on COVID-19 from
Geauga Public Health
From the Mayor
Dear Residents:
I hope this newsletter finds you healthy and in good spirits as we work through the COVID-19 crisis.
• We encourage you to continue to check on your neighbors and the elderly.
• If you have concerns about COVID-19 please consult the updates coming from Governor DeWine's office.
• Villages services will continue.
• We have made slight adjustments on how we receive paperwork submitted to the building department.
• The police department will continue their 24/7 patrols of our roads. If you come to the station, the lobby is closed. Next to the front door is an emergency contact button which will connect you with police dispatch.
• Most meetings have been postponed or cancelled. Check the website for more information.
• Trash Day has been postponed. Hang onto your "stuff" for a future date to be announced.
• Refer to the Geauga Fresh Farmers' Market website for updated information.
• Geauga County recently completed the 140-page Geauga County Natural Hazards Mitigation Plan. Although not designed for a pandemic, the county's preparedness for a crisis is excellent.
• One thing that would help the Village keep in better communication with residents is if each street, neighborhood or HOA would provide us with the contact information of a resident who might serve as an official or unofficial leader of the neighborhood. This information would help inform you about emergency situations, power outages, road closings, etc. Please email this information to adminassist@southrussell.com
• Consider signing up for an SRV Eblast. An Eblast is sent to inform residents of power outages, street closings and other emergencies. Information is on the Services main page in the upper right corner of the South Russell website.
It is a pleasure serving as your mayor. Please feel free to contact me if I can help you in any way. My email is mayor@southrussell.com, office phone is 338-6700 ext. 224.
Sincerely,
Bill Koons
Mayor
ALL VILLAGE OFFICES CLOSED TO THE PUBLIC
To ensure the government of the Village can continue to function and serve the needs of the residents of South Russell, the offices of the Village will be closed to the public effective immediately until further notice. The closure of the Village public buildings will minimize potential COVID-19 exposure and possible transfer.
BUILDING DEPARTMENT
The department will still be accepting submissions for meetings, applications for building and zoning permits, pavilion permits, etc. and process them in a timely manner. A bin has been placed outside the Building Department door with envelopes, paperclips and rubber bands. Please place your submission/paperwork in the bin (any payments in an envelope, marked with the address of the job and name of contractor and please call to let us know a payment is enclosed). You can also submit applications by email to building@southrussell.com or call the Building Department at (440) 338-1312 with any questions or concerns. Items can be placed in the bin during normal Building Department hours Monday thru Thursday 8:00 A.M. – 2:15 P.M.
FISCAL OFFICE – ADMINISTRATION
The bin outside of the Building Department can be used for anything being dropped off for the Fiscal Office or Administration between 8:00 A.M. – 4:00 P.M. Monday thru Friday. You can email the Fiscal Officer at fiscalofficer@southrussell.com or call (440) 557-5533 with any questions or concerns.
SERVICE DEPARTMENT
The bin outside the Building Department can be used for anything being dropped off for the Service Department between 8:00 A.M. – 4:00 P.M. Monday thru Friday. You can email the Street Commissioner at streets@southrussell.com or call (440) 338-6700 x 236 with any questions or concerns.
POLICE DEPARTMENT
The Police Department lobby will be closed for routine walk-in reports until further notice unless an immediate emergency exists. A new online reporting system has been activated where a resident can submit a report to the Police Department without the need for a personal visit. The "Citizen Reporting System" can be found at www.frontlinepss.com/southrussell.
In addition to the online reporting system, non-emergency reports will be taken over the phone. The direct line to the Police Department is 440-338-7611. We will continue providing essential services including lockouts, alarms, and routine calls for service while making every effort to maintain the safety and security of the Village.
There will be NO citizen fingerprinting until further notice.
To sign up for the Police Department's notification system, go to https://portal.publicsafetycloud.net/community-alerts/village-of-south-russell.
All Village employees will continue to serve in their respective roles as normal. If you need to speak with someone during this time, please contact us via phone or email.
THANK YOU FOR YOUR COOPERATION AND UNDERSTANDING DURING THIS UNPRECEDENTED TIME.
What you need to know about Coronavirus
from the Ohio Municipal League
You can access coronavirus.ohio.gov for constantly-updated information and guidance.
Read the most accurate information on COVID-19 in this fact sheet (HERE) from the federal CDC.
AG Yost Warns of an
Outbreak of Scams Related to Coronavirus
For more details:  AG YOST Warns of Coronavirus Scams
Tax Forms and Preparation Assistance
CCA Forms and Information 
CCA Tax deadline has been extended to July 15, 2020.
Due to the concerns regarding the Coronavirus, the CCA – Division of Taxation will be open on Tuesdays and Wednesdays from 9am – 2pm only. Please note, they will not have walk-in taxpayers assistance until further notice. Drop-off boxes are available at each of the three CCA branches. Please drop-off your tax return information during the days and times noted above.
You can contact CCA via email using the email contacts found in the "Office Locations, Hours, Closures and Contact Information" link to the left. Otherwise, you can call during the hours listed above. Please also note that you can mail in your W2's/1099's/Federal Schedules, and CCA will prepare the return for you.
CCA Online Forms:  http://ccatax.ci.cleveland.oh.us/?p=taxforms
For eligible residents, the 2019 CCA Tax Exempt Certificates should be completed and mailed to:
Central Collection Agency
P.O. Box 94810
Cleveland, OH 44101-4810


Seize the Day & Spring into these Adventures!
Though many of our usual springtime routines are currently curtailed, let's embrace the extra time at home and watch our natural world awaken. Here are some ideas!
http://geaugaswcd.com/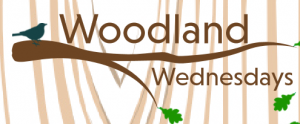 Program Information
http://geaugaswcd.com/yahoo_site_admin/assets/docs/WW_2020_OverviewFlyer_WEB.5095242.pdf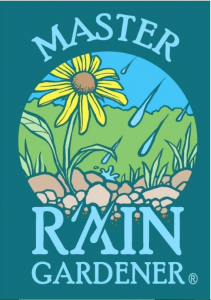 Chagrin River Watershed Partners, in partnership with other organizations, will again be offering a Master Rain Gardener certification course for residents and professionals within Northeast Ohio. This 5-week course is open to residents of Northeast Ohio and can be taken in-person or online. The program is being offered 4 times in 2020. The first online course starts February 3 and registration is open now!
Master Rain Gardener Program Flyer 2020
Schedule a Vacation Watch or Register Your Pet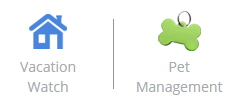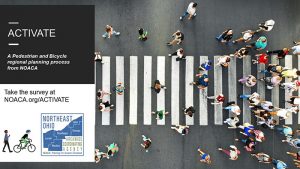 NOACA is creating a new bicycle and pedestrian plan to improve access and safety across our region. Even if you ride occasionally or enjoy a leisurely stroll, we need input from everyone to ensure the plan serves all our area's residents! Take our survey at bit.ly/33jFEX1 today!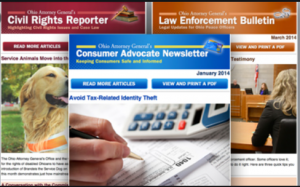 View the following articles:  " Tax Filers: Beware of Scams and "Ghost" Tax Preparers;"  "Ohioans Alerted to Fake Third-Party License Services;"
"Apple Customers be on Alert: iCloud and AppleCare Scam Calls Making Their Rounds;" and "Answer Only the Real Government Census, Not Scams
2020 is a census year!"
Consumer Advocate Newsletter – February 2020
New  South Russell Village Building Department Hours
The Building Department will be open from
8:00 a.m. until 2:15 p.m.
Monday through Thursday
Managing Through a Power Outage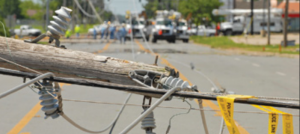 First Energy's Tips for Managing Through a Power Outage
https://www.startrecycling.com/
https://www.startrecycling.com/hhw-facilty
https://www.startrecycling.com/index.php/recycling/in-home-recycling-main
 Stream Enhancement Grant for Manor Brook
Link to the Power Point presentation for the stream enhancement grant for the Manor Brook neighborhood can be found here:
PRESENTATION TO RESIDENTS 1-27-19
High Utility Bills?
Oftentimes the late winter months can bring higher-than-expected utility bills, usually because the cold snaps in January and February result in customers using more energy than normal.  Click on this link for information on  programs that may be helpful during this time:  https://www.firstenergycorp.com/content/fecorp/newsroom/news_articles/assistance-programs-available-for-firstenergy-customers-in-ohio-.html
Mission Statement
The mission of South Russell Village is to serve the residents of the Village by:
– Providing a high level of essential services
– Planning for future needs while preserving the character of the Village
– Promoting an attitude of professionalism and impartiality among Village officials and employees in a fiscally responsible manner