Welcome to the Village of South Russell
South Russell is home to approximately 4,000 residents and is located at the western edge of Geauga County, Ohio.  The 4 mile long by 1 mile wide village is a residential community with unique character and rural "at home" charm.  South Russell students attend the highly acclaimed Chagrin Falls School System

.
* * * NOPEC UPDATE * * *
Schedule a Vacation / House Watch
The South Russell Police Department offers vacation watches for residents.  Click here to submit your request.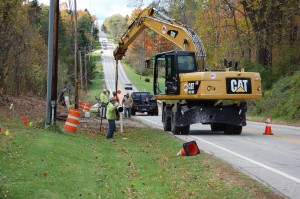 Dominion East Ohio Gas Improvement Project
Dominion East Ohio Gas has started a project in the Village of South Russell to improve service supply of natural gas.
The project started on October 19th and is scheduled to be completed in January 2017.  The new installation of a larger supply line is located on East Bell Road from the intersection of Bell Road and Chillicothe Road (St. Rt. 306) and continued eastward to just east of Paw Paw Lake Drive and will connect to the Dominion transmission line.
All work is being performed in the village's utility right-of-way, mostly on the south side of Bell Road except between Kensington Drive and Chillicothe Road where work will be performed on the north side of Bell Road.  Although this time of year work is weather related, traffic will be maintained when working but motorist can expect some delays.  Please watch for signage and obey the traffic controllers.  Safety is our number one concern.
Below is the residential letter that all homeowners in the affected work area should have received in their mail.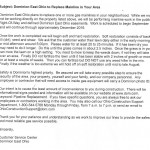 Mission Statement
The mission of South Russell Village is to serve the residents of the Village by:
– Providing a high level of essential services
– Planning for future needs while preserving the character of the Village
– Promoting an attitude of professionalism and impartiality among Village officials and employees in a fiscally responsible manner