Welcome to the Village of South Russell
South Russell is home to approximately 4,000 residents and is located at the western edge of Geauga County, Ohio.  The 4 mile long by 1 mile wide village is a residential community with unique character and rural "at home" charm.  South Russell students attend the highly acclaimed Chagrin Falls School System

.
Schedule a Vacation Watch
The South Russell Police Department offers vacation watches for residents. You can schedule your watch by clicking
HERE
Latest News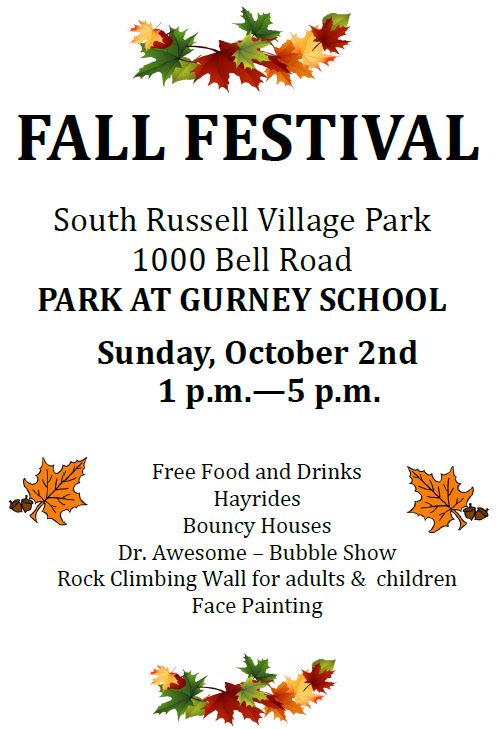 Stormwater:
Click on the following links if you would like to read more on these storm water topics:
2016 County and Hazardous Waste Collection
Geauga County will hold one-day collection events as well as the Geauga-Trumbull Solid Waste Management District for recycling and hazardous waste collections. Please see the 2016 County and Hazardous Waste Collections flyer for more information.
Additional Geauga-Trumbull Solid Waste Management District events:
The Geauga SWCD's Annual Tree Sale Turns Over a New Leaf with a FALL TREE SALE! From White Pine to Arborvitae and Swamp White Oak to Washington Hawthorne, this year's tree selection is simple, affordable, and suitable to your landscaping needs.  The tree sale pick-up dates are Friday, September 23rd and Saturday, September 24th at the Geauga County Fairgrounds.  Order deadline is Monday, August 29th and information can be found at geaugaswcd.com or by calling 440-834-1122.

Calling all SUGAR MAPLES… Announcing Geauga's BIG TREE Contest.  This voluntary contest will promote the beauty and benefits provided by our county's biggest and oldest trees. This year's featured tree is the Sugar Maple.  Nominations must be submitted to Geauga SWCD no later than

Friday, September 23

rd.   Visit geaugaswcd.com for more information or for a nomination form.

SAVE THE DATE:  Geauga SWCD is teaming up with the OSU Extension Master Gardeners to present… Make the Most with Compost on Thursday, September 29th 6:00 – 8:00 pm at the West Woods Nature Center.  Much of what we throw away as trash from our kitchens and yards can be composted into rich, healthy soil, which helps slow runoff and filter water.  Join us for this fun, informative workshop with certified permaculture designer and teacher Diana Sette of Cleveland's Neighborhood Leadership Development Program.  Learn about compost basics and benefits, different composting bins and methods, as well as common problems to avoid.  Stay tuned for more information or call 440-834-1122.
Mission Statement
The mission of South Russell Village is to serve the residents of the Village by:
– Providing a high level of essential services
– Planning for future needs while preserving the character of the Village
– Promoting an attitude of professionalism and impartiality among Village officials and employees in a fiscally responsible manner