Street Department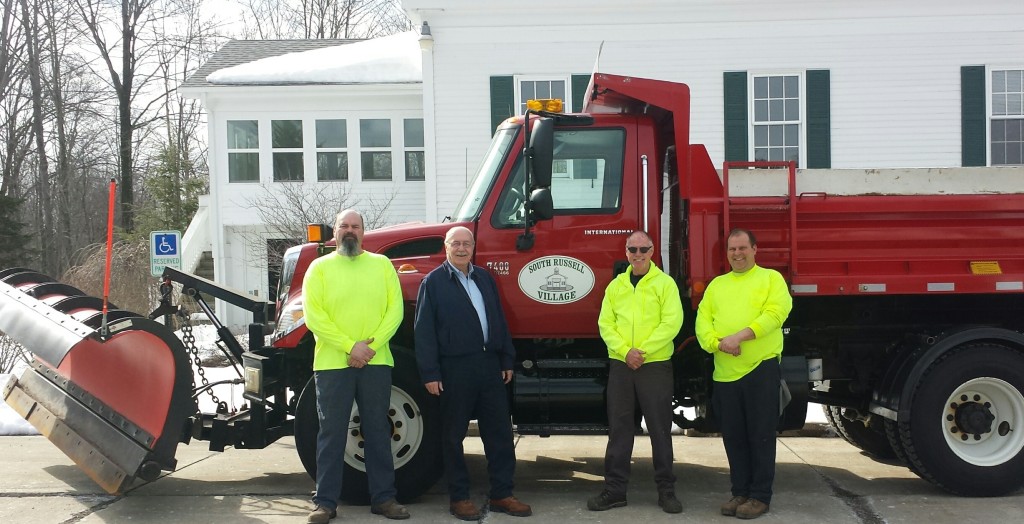 From left to right – Rick Pausch, former Street Commissioner Darrell Johnson, current Street Commissioner Tim Alder, Jeff Pausch
Email: streets@southrussell.com
Phone: Phone: 440.338.6700 Ext.236
The Service Department currently employs four full-time employees. The department's maintenance of over 47 lane miles of roadway includes minor road repairs, roadside berming, roadside mowing, snow and ice removal, traffic and street signage, ditches, and storm sewer and catch basin repairs. Major repairs or improvements to roadways are scheduled on a priority basis and performed annually in a yearly road program.
The Service Department helps maintain village buildings, which include the Police Department, Building/Service Department, and Village Hall. Seasonal property maintenance is performed on village owned land including the Bell Road Cemetery.
The service department also maintains their fleet of vehicles, which includes four large dump trucks, a backhoe loader, an articulated-wheel loader, a roadside tractor/mower, a one-ton dump truck, and a ¾ ton pickup truck. Property maintenance equipment is also purchased and maintained by employees. Preventive maintenance and most repairs are performed in-house and equipment is replaced or upgraded as needed.
Residents are encouraged to call with questions or concerns related to residential problems involving storm drainage or with information that may affect the general public such as road conditions, sinkholes within the right-of-way, damaged or missing signs, streetlight outage, or questions regarding general policies. The South Russell Service Department may not have all the immediate answers, but they have the resources to investigate the concern or direct you to someone else who can address your concern. The Street Commissioner can be reached at (440) 338-6700 ext.236 or e-mail him at streets@southrussell.com.
Normal working hours for the Service Department are Monday through Friday, 7:00AM to 3:30PM. After hour messages may be left on voicemail at extension 236 and will be addressed the next regular workday. Concerns needing immediate attention may be directed to the South Russell Police Department non-emergency number (440) 338-6700 and follow the menu to the police department. An officer will determine the urgency and contact the appropriate personnel from the Service Department.