Police Department
The South Russell Police Department, led by Chief Michael Rizzo, is comprised of 9 full-time and 9 part-time officers.  The total years of service for SRPD officers is 360 years with an average of 20 years of service.  Our department is comprised of a group of dedicated officers who are committed to maintaining a safe environment by providing high visibility and exceptional service.  Our goal is to continually improve safety and quality of life through a broad base of traditional and innovative services, and by offering continuous involvement within and around our community.  We continue to do our very best to provide the residents of South Russell Village with the best protection and service possible.
Non Emergency Office Line:  440-338-7611   (Direct to PD)
Chagrin Valley Dispatch Center:  440-247-7321   CVD Website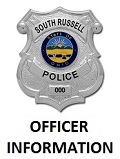 <<< Click Here for additional information
---
Links
---
Our Community Programs:
Safety Town
Helmet Smart Program

Senior Citizen Meetings

Homeowner's Meetings
---
HELMET SMART PROGRAM
The Police Department will give children a "safety citation" voucher for a free donut at Dunkin Donuts when the office observes a child wearing their helmet while biking. The child will also be entered to win a free bicycle. The drawing will be held at the Police Department open house event this fall.
SOLICITATION ORDINANCE
Village Council adopted rules pertaining to solicitation in the Village of South Russell limits in 2014. Click here for a review of the Solicitation Ordinance. If you would like to be added to the "Do not knock" list or need to obtain a Solicitation Permit, please email Chief Rizzo at policechief@southrussell.com
You can now follow the South Russell Police Department on Facebook and Twitter!
Click the links below to "like" or "follow" our pages:

Thank you for your support and interest in the safety of our community!